Virtual and traditional 'avurudu ganudenu' with NSB on 14th & 15th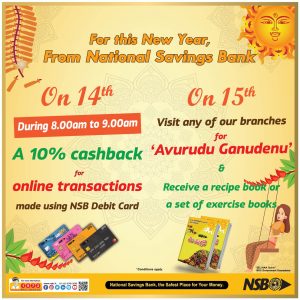 With the intention of increasing the awareness on and promoting e-commerce transactions National Savings Bank (NSB) has planned to launch a cash back promotion for Avurudu Season.
Accordingly, a 10% cash back will be offered for e- commerce transactions or local online payments made using NSB Debit Card on 14th April 2021, from 8.00 am – 9.00 am. The maximum cashback value is LKR 1000/- per card/per day during the promotion period and the cashback will appear on the customer's account in due course.
Even if the Bank is closed for the New Year, often being thoughtful of the requirements of the customers, we have made it a point to enable the customers to make a digital transaction during the auspicious time allocated for "Avurudu Ganudenu" on the New Year Day.
In a backdrop where the healthcare authorities instruct the public to continue the practice of healthcare measures against Covid-19 especially during the festivities, the customers can shop while in the safety of their homes and make their daily purchases online using NSB Debit Card. So, the promotion will encourage our customers to celebrate the New Year safely without undergoing the hassle of visiting shops with face masks on and encountering crowds.
Further, the customers who look forward to visiting our branches for "Avurudu Ganudenu" on 15th April 2021, when the Bank is reopened after the New Year, can receive a recipe book or a set of exercise books as a gift.
The Bank invites all Sri Lankans to join hands with NSB, the safest bank in the country, to enjoy a safer banking service this Avurudu.
Terms and conditions
The e-commerce promotion (hereinafter referred to as the 'Promotion') of National Savings Bank is open to all NSB Debit cardholders.
The promotion will be valid on 14th April 2021 from 8.00 am – 9.00 am.
The Cardholders, who doing online transactions using NSB Debit Card issued by National Savings Bank will be eligible for the 10% cash back. Maximum cashback value is LKR 1000/- per card/per day during the promotion period.
This offer is valid only for domestic transactions.
In the event of any dispute regarding this Promotion, the decision of NSB shall be final and conclusive
The general NSB Debit card terms and condition shall apply on all transactions.
The National savings Bank reserves the right to change or edit all or any of the rules applicable to this Promotion and/or features of this Promotion at any time and also reserves the right to extend or shorten the duration of the Promotion and withdraw or cancel the Promotion at any time without prior notice.
Cash back amount will appear in the May 2021 bank statement
NSB is not the supplier of the products or services offered by the merchant and NSB shall not accept any liability in relation as well any failure of product or services.