NSB Wins "Silver" Award for Annual Report 2020 at the 56th CA Sri Lanka Annual Report Ceremony
National Savings Bank (NSB) has bagged the prestigious "Silver "award, jointly under the State Banks' category for its Annual Report 2020 themed "Playing our part: True to our word and dear to your heart" at the 56th CA Sri Lanka Annual Reports Awards ceremony held at the BMICH recently .
NSB has been continuously recognized and rewarded for it's commitment towards the best practices in annual reporting amongst various corporations, small companies, government agencies, non-profit organizations and associations as well as agencies from different sectors and industries who had participated in the competitions.
The Bank's success is reflected in our Annual Report, and it is heartening to note that our hard work has been recognized through this Award. The award validates our commitment towards creating value for all our stakeholders, improved communication on our performance, strategy, prospects, and corporate governance in a timely, reliable, and transparent manner. We are dedicating our success to all our stakeholders, including those of our customers and the State as the sole shareholder and our employees.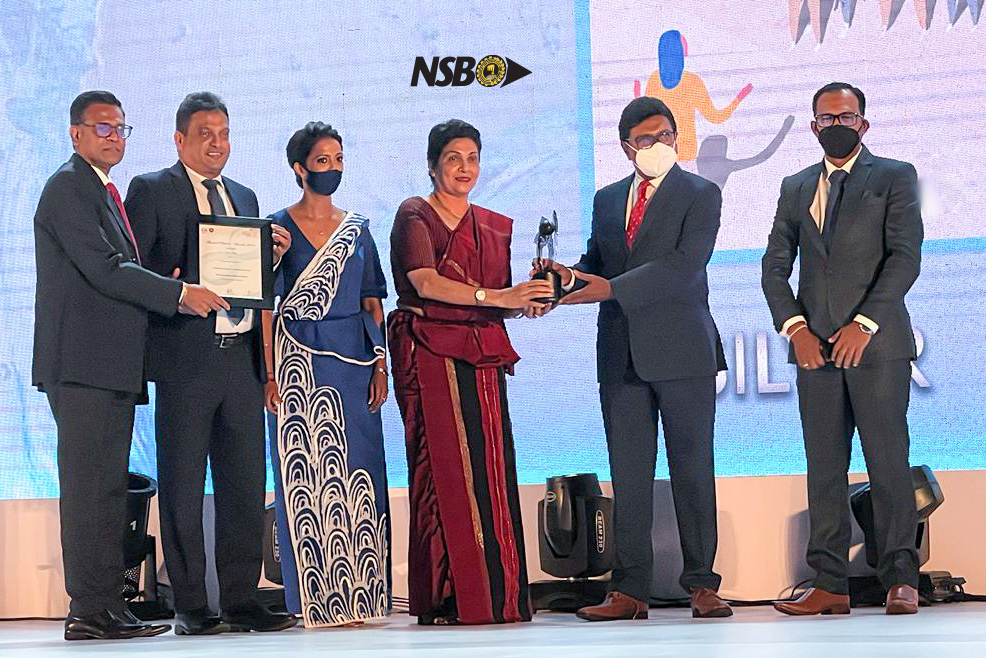 The Chairperson of the National Savings Bank Ms Keasila Jayawardena receiving the award from Mr. Ranil T Wijesinghe, Past President of CA Sri Lanka.
From Left to right: Mr. K Raveendran, Senior Deputy General Manager, National Savings Bank, Mr. Ajith Peiris, General Manager/CEO, National Savings Bank, Ms Chamila Cooray, Alternative Chairperson of Annual Report Committee 2021, Ms Keasila Jayawardena, Chairperson, National Savings Bank, Mr. Ranil T Wijesinghe, Past President of CA Sri Lanka and Mr. Chaaminda Kumarasiri, Chairman of Annual Report Award Committee 2021 and Member of the Governing Council CA Sri Lank.