English is Simple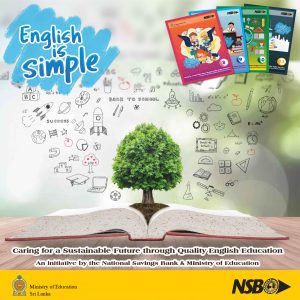 Sustainable Development Goals (SDGs)
Sustainable development has been defined as development that meets the needs of the present without compromising the ability of future generations to meet their own needs.
Sustainable development calls for concerted efforts towards building an inclusive, sustainable and resilient future for people and planet.
In 2015, Sri Lanka pledged commitment to the 2030 Agenda for Sustainable Development and the 17 Sustainable Development Goals (SDGs) along with 192 other Member States of the United Nations. The 2030 Agenda has helped Sri Lanka to enrich its path to sustainable development through an approach that harmonizes economic, social, and environmental dimensions of development.
The SDGs came into effect in January 2016 in Sri Lanka and the UNDP (United Nations Development Programme) is planned to continue to guide the world to accomplish the SDGs in 2030.
The Sustainable Development Goals (SDGs), otherwise known as the Global Goals, are a universal call to action to end poverty, protect the planet and ensure that all people enjoy peace and prosperity.
In 2019 the Bank initiated the SDG project 'English is Simple' under the Quality Education initiative with the coordination of Ministry of Education.
English is Simple
The project commenced with collaboration of the English and Foreign Languages Branch (EFLB) of the Ministry of Education (MoE).
The beneficiaries of the project were chosen on recommendation of the Ministry, which are Grade 8, 9,10 & 11 students of 81 National Schools which had the pass rates below 50% for English Language in the year G.C.E. O/L examination
Objective of the project is to increase the pass rate of the students of selected 81 schools at the G.C.E O/L examination in successive years
An expert panel of resource personnel prepared the content for textbooks (activities & model papers) in workshops
The MOU for the project 'English is Simple' was signed on 11th October 2019 with the participation of Secretary of the Ministry of Education and the General Manager/CEO of the National Savings Bank