NSB Mastercard Weekends with Daraz – June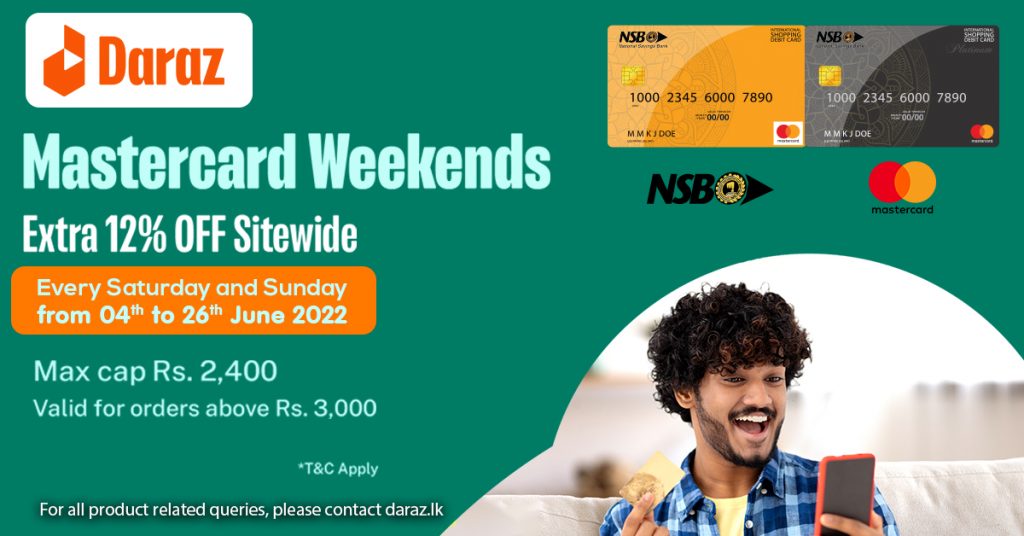 Terms and Conditions – NSB Mastercard Weekends
• This offer is valid on every Saturday & Sunday from 04th June to 26th June 2022.
• Eligible for all NSB  Mastercard Cards issued in Sri Lanka.
• NSB Mastercard Cardholders will be eligible for an extra 12% discount sitewide except for some selected products including Samsung mobile phones, gift vouchers & infant milk powder.
• The maximum amount of discount that can be obtained per transaction is Rs.2,400/- and the minimum order value should exceed Rs.3,000/- in order to be eligible for the discount.
• A cardholder can redeem this offer only 01 time per day.
• The maximum amount of discount that can be obtained for a Utility payment is Rs.250/- (No minimum order value).
• It is mandatory to collect the Mastercard voucher in order to avail the bank discount (without collecting, discount will not apply on payment page).
• Without collecting the Mastercard voucher, the discount will not apply although the transaction can be completed without discount.
• Every discount transaction on the Mastercard day will require collecting the Mastercard voucher again (1 voucher collection is valid for 1 discount transaction only).
• If a transaction is conducted on the NSB Mastercard card without the Mastercard voucher and discount is not availed, it will be treated as final and customer will not be eligible for a discount.
• Only one Mastercard voucher can be redeemed on one transaction (multiple vouchers cannot be applied on one transaction).
• Customer needs to collect the relevant voucher based on the payment type
o for outright payment – collect the outright payment discount voucher
o for Utility payment – collect the Utility payment discount voucher
• General terms and conditions of Daraz and Mastercard shall apply.