NSB Mastercard and Glomark.lk Promotional Offer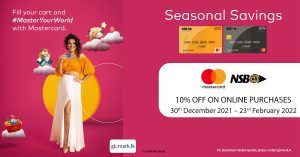 Offer:
10% discount for Bills over LKR 5,000 on www.glomark.lk.
*T&C Apply provided always that full payment for the above products/services are made using a  NSB Mastercard
debit card.
Duration:
30th December 2021 – 23rd February 2022
Redemption Channel:
Only via www.glomark.lk website. The offer does not apply to physical store purchases.
Eligible Cards:
All NSB Mastercard Debit  cards
Terms and Conditions:
• Offer of 10% discount on total bill, with a maximum discount cap of Rs. 2000/- per transaction.
• A minimum bill value Rs. 5000/- to be eligible for this offer
• Offer valid for All NSB Mastercard Debit, Credit, Prepaid, Commercial or Business cards
• Furthermore, the following conditions apply:
o Maximum 3 units/3kg per item
o Items that will be excluded for discounts – Rice, Sugar, Pulses, Liquor, Tobacco, Infant Milk
Powder, Milk Powder, Flour, Coconut, Gift Vouchers.
• Standard terms and conditions on www.glomark.lk will apply in addition to the above.