Exclusive offers from NSB Debit Cards at Sarasavi Bookshops.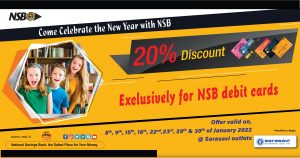 Terms & conditions
1. Offer is valid only for,NSB Debit Cards (Master & VISA cards)
In store purchases made on 8th, 9th, 15th, 16th, 22nd, 23rd, 29th & 30th January 2022
| | |
| --- | --- |
| Vendor | Sarasavi Bookshops |
| Item | All the items (excluding gift vouchers) |
| Discount | 20% discount for the total bill |
2. Offer is available at all bookshop outlets of Sarasavi.
3. To enjoy the discount, the full payment needs to be made with NSB Debit Card.
4. The maximum discount benefit applicable for a customer is Rs. 2,000/-.
5. Staff of the Bank are also eligible for this offer
6. The goods & services listed by the vendor outlet as 'not for discount' are not eligible for the offer.
7. The offer is not valid for gift vouchers.
8. This offer cannot be used in conjunction with other promotional offers and cannot be exchanged for cash.
9. The Bank bears no responsibility in any way for any goods or services purchased and any dispute relating to the same should be resolved by the cardholder directly with the partner and any claim by the Cardholder against the Partner will not relieve the Cardholder from his/her obligation or repayment to the Bank.