Enjoy up to 30% Discount @ Suriya Luxury Resort (Pvt) Limited with NSB Mastercard Debit Cards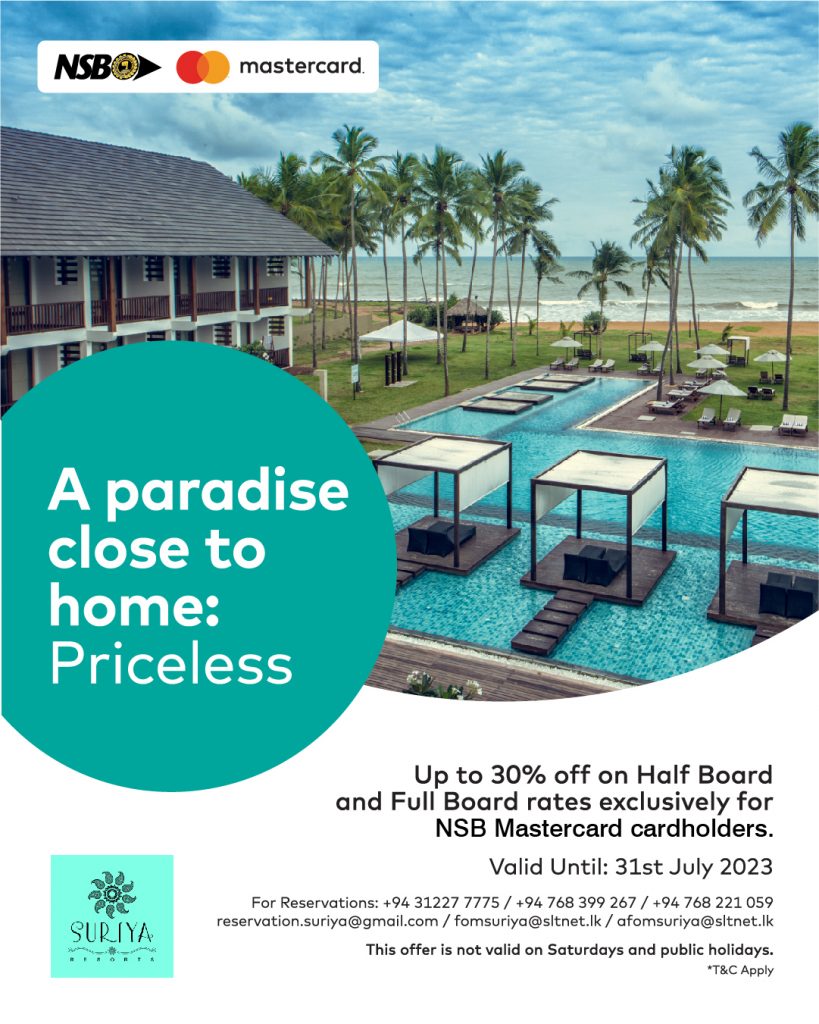 Terms & Conditions – Suriya Luxury Resort (Pvt) Limited
Up to 30% off for Mastercard cardholders.
Offer is valid until 31st July 2023.
For Reservations & Availability kindly contact – 0312277775/ 0768399267 /0768221059
Email – reservation.suriya@gmail.com / fomsuriya@sltnet.lk / afomsuriya@sltnet.lk.
Check-in time is 14:00 hrs and Check-out time is 12:00 hrs.
Valid for all NSB Mastercard debit cards
50% of the reservation amount will be charged prior to arrival to confirm the booking and the
balance amount should be settled at the hotel from the same NSB Mastercard card used at the time of
booking.
Bluetooth speakers are not allowed in public areas and rooms where it may disturb other guests.
Food and beverage items cannot be brought from outside.
Above offer is not valid on Saturdays & Public Holidays.
The offer is not combinable with any other promotions, discounts, or special offers.
All above rates are including service charge and taxes.
Supplements
Suite Supplement – Rs 7500/- per night
Water Bungalow Supplement – Rs 10,000/- per night
Extra Bed – Rs 1500/- per night
Additional Charges
Late checkout – Rs 3500/- per hour (subject to availability)
Child policy
Ages 6 – 11 years, Rs 3500/- per child per night
Below 6 years Complimentary
Age 12 years and above will be considered as an adult.