Enjoy 20% off @ Era Beach Thalpe with NSB Debit Cards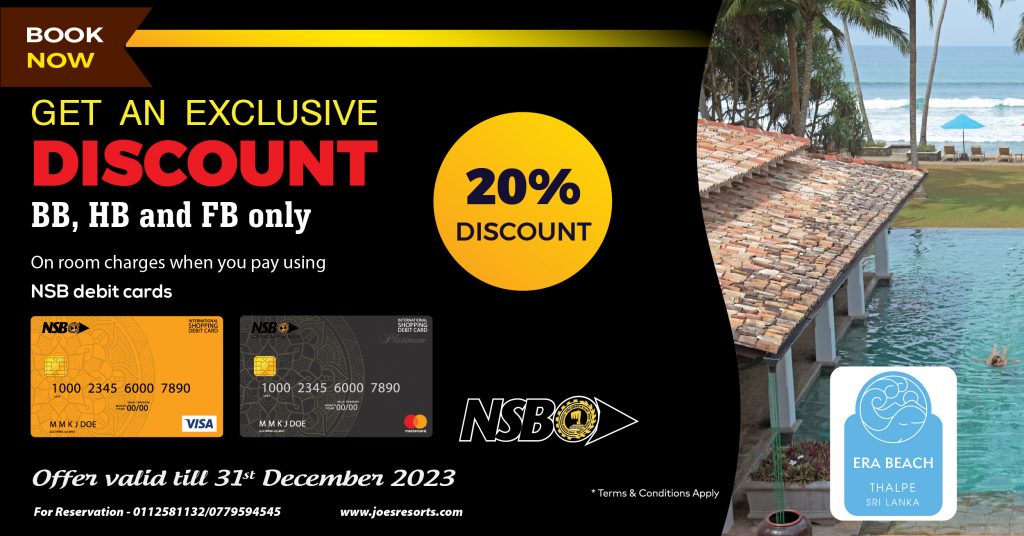 Terms and Condition
Hotel Name: Era Beach Thalpe
Duration : 1st July 2023 – 31st December 2023
Card Name: NSB Debit Card
Discount Applicable: BB, HB and FB only
Contact Numbers: 0112581132/0779594545
Website: www.joesresorts.com
Discount will not be applicable on upgrades, extras and supplements.
Offer valid for Sri Lankans and Expatriates only. Foreign Guests accompanying cardholders will not be offered this discount.
Check In & Check Out – Check in time 1300 Hrs and check out time 1100 noon.
Child policy
Children below 4 years free of charge (Considering sharing parents room)Children between 05 to 11 years sharing parent's room and Half Rate will be charged on adult's meals
Children 11 years and above will be charged as adults
Using of Pool
It's strictly prohibited to use the pool after using liquor
If Children's using pool they must be accompanied by the parents
Government Taxes
The rates are subject to any revisions or existing taxes or any new taxes imposed by
Sri Lankan government.
Booking and cancellation policy
To confirm the reservation, we ask for 25 % deposit through bank money transfer within 07 days of the original reservation, if not the reservations will be automatically cancelled
25% deposit will not be refund in case of cancellation
Any cancellation of confirmed booking should be notified in writing via email.
Less than 7 days – 100% cancellation fee will be charged.